Electrical Services
Industrial Electrician, Billings Montana
AEI Electric's broad range of electrical offerings are backed by years of industry experience with the best electrical contractors around. Whether you are looking for electrical services for your commercial, industrial or residential property, for installation, new construction, remodel or repair, AEI Electric has the skill set and knowledge to aid you.
Specialty Electrical Focus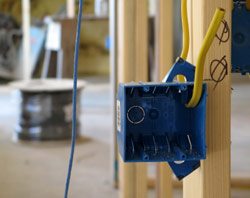 We have worked on all types of jobs – both large and small – but prefer to tackle the technically tricky stuff. We love a challenge and have had great experiences in helping find solutions to complicated electrical problems in the past. AEI Electric also has an impressive project history from wiring a whole water park to assisting with Telemetry and Municipal Water systems, we do what it takes to get the job done right the first time.
Electrical Consultation
Call AEI Electric for an electrical consultation on your residential, commercial, industrial or government project and you will not be disappointed. When you choose AEI Electric you can expect prompt, responsible, electrical professionals that will quickly address your electrical needs.
Call 406-697-5343 or contact us online for any electrical needs.
Performing residential, commercial and industrial electrical services to Billings, Bozeman, Helena, Butte, Glendive, Miles City and Colstrip, Montana.